Best Dubai Luxury Car Rental With Driver Service (2023)
Do you want to know about Dubai's luxury car rental with driver service in Dubai? This post is your way to go. Nothing can be more exciting than arriving at a friend's party in a luxurious car. Especially, when you live in a rich state like Dubai, where people love luxurious cars.
Therefore, a lot of folks from Dubai have been asking how to hire a luxury car with a driver so that they can show off either at their friend's party or at any wedding ceremony. The question is,  Which service should you go with? And how much will it cost you?
To answer these questions, I'm going to tell you everything about renting an expensive car in Dubai with a driver. This won't be a long post, so read it completely.
Let's dive into the topic.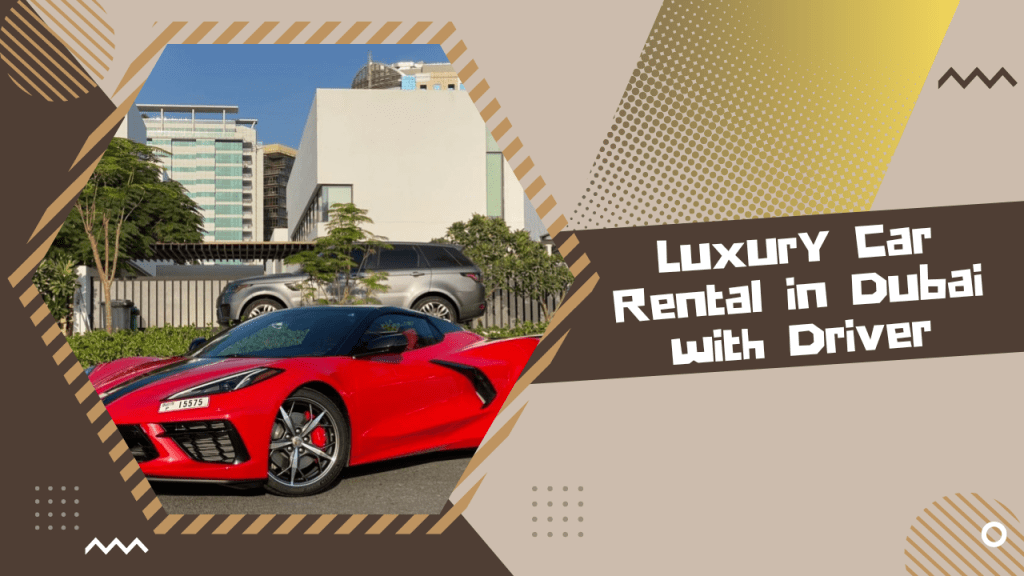 Why Do You Need To Rent A Car?
There are different reasons why people rent a luxury car, specifically, when you're in the largest state of the United Emirates, Dubai, where most people have expensive cars. When it comes to the most beautiful places and most popular tourist destinations, most of them are found in Dubai. 
Like, Burj Khalifa, Bluewater Islands, water parks, Miracle Garden, and whatnot. So, whether you're planning a business trip or simply a tourist looking to explore the sights, you'll face a number of challenges. 
For instance, you'll be totally new to the place and hence won't know where to go. In this case, having a driver is important as hell to guide you around the place and let you enjoy your visit without having any difficulty. The advantages of having a driver gets multiplied when he's in a luxurious car as well. 
Because when you have a luxury car and a driver with you, you'll be able to enjoy your visit completely. The look, comfort, and amazing features of the car will take your ecstasies to the next level. 
Drivers and cars in Dubai are useful not only for business trips and tourism, but also for private parties, personal home use, and other events. But which car rental services should you use to hire a luxury car with a driver?
Even though there are many car rental companies, the one that is considered to be the most trusted and used is Emirates Bus. Let's discuss this Dubai car rental service in detail.
Silverstone Rent a Car
Silverstone Rent a Car is one of Dubai's most popular car rental businesses. It provides high-quality luxury buses, cars, and chauffeured services. Pretty much all the luxury cars that you can name, like Mercedes Class 5, BMW 7 Series, Chevrolet Impala, etc., are available on Silverstone. Isn't that wonderful? 
Moreover, Silverstone has a professional team that gives you an extraordinary traveling experience.  This service is quite old in the market, having 10 years of experience. 
Rent Of The Car With A Driver?
The prices of the cars may vary according to their type and the number of passengers. You can visit their official site to learn more about the prices of the cars and other important things about Silverstone car rental services. Everything is mentioned there in detail.
How To Rent A Car With A Driver From Silverstone?
Head over to the official Silverstone website and there will be an option called "Online Booking" mentioned on the left side of the page. Click on it. You'll be directed to a form that you'll have to fill out to book a car and a driver for you. 
Put your address, the date when you have to go on the journey, and lastly, the time they should come to pick you up. 
Once the form is filled, click on the "Reserve Now" button. Then, all of the Silverstone's cars will appear in front of you along with their prices. Choose the one that you want. 
There will be another form in which you'll be asked to give some details about the number of passengers, your complete address, e.t.c. Once everything is done, you can now click on the "Confirm and pay" option to confirm your booking and pay the fee. That's how simple it is.
Conclusion
Make sure you check the limitation of the passengers and the time of the car when you're booking. I'd recommend you manually fill in the details in the form first without selecting the car from the list. 
Because customers don't pay attention to the hours and the day and end up paying more. If you need any help, you can always talk to me in the comment section.